Festival of the Arts Shop Window Competition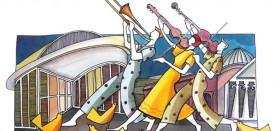 Tuesday 17th May 2011
The organisers of Perth Festival of the Arts, in conjunction with the
Perthshire Advertiser running the Shop Window Competition each year with shops and businesses will dressing  their windows in style for the occasion, reflecting the themes of music, dance, comedy drama and art.

The city centre has also been decorated with colourful banners carrying the Festival designs. The banners capture the spirit of the festival with its colour and vitality reflecting the mix of artforms in this year's programme.